Posted by
Justin
on May 20th, 2010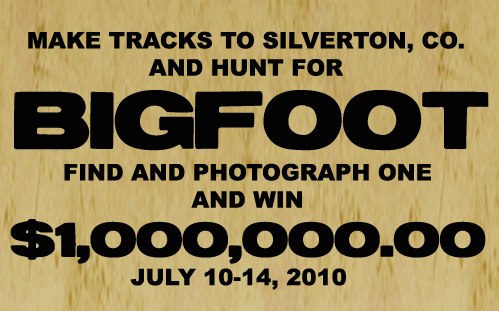 It seemed like the perfect way spend a summer day in Silverton, Colorado.
For a mere $250 registration fee, Silverton-businessman Rick Lewis offered 400 people the chance to win a cool million bucks if they could only get one snapshot of Bigfoot. For your money, you also get to stay at the beautiful Kendall Mountain Resort for the weekend.
The website even boasts sponsorship from companies like Nikon and Kodak as well as government agencies including the U.S. Department of the Interior and Fish & Wildlife Service.
It was also fake.
Silverton town administrator Jason Wells says the Kendall Mountain Resort, which is owned by the town, has never been scheduled to host the $1,000,000 Hunt For Bigfoot. Wells says the resort is booked with a different event that weekend.

"I just want to make sure that we're not somehow tied into this whole affair," Wells said. "I don't want a bunch of people showing up here who have paid $250 for there to be a lack of an event that's got the town's name in any way attached to it."

Wells says Silverton is known for colorful characters, but he said this "dubious" hunt was "bizarre even for here."

After being confronted by town officials over the false booking claim, Lewis says he was moving the contest to a town in Northern California but refused to say where, according to Wells.
The site is still up for now although registration is closed.
Twitter this