Posted by
Justin
on May 25th, 2010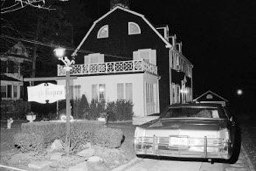 Arguably the most famous haunted house in America. This Long Island Dutch Colonial was ground zero for a horrific haunting in the late 70s when George and Kathy Lutz moved in with their three children.
HAUNTING PHENOMENA
– Ghost ripping doors from hinges
– Ghost slamming doors

– Noxious slime oozing from ceilings

– Demonic faces
– Swarms of insects threatening your family
ADDED BONUS
Lutz family made tens of thousands of dollars in book and film rights. Which in today's economy, adjusting for inflation, could be tens of hundreds of dollars.
NEIGHBORHOOD
Not too thrilled with the whole ghost tourist industry, so much so that the house number has been changed. Consider your new paranormal experience totally secluded!
ASKING PRICE
$1.15 million OBO
FINAL NOTES
House is not actually haunted. Lutz' and lawyer admitted to making up the whole story.
Twitter this