Posted by
Justin
on May 10th, 2010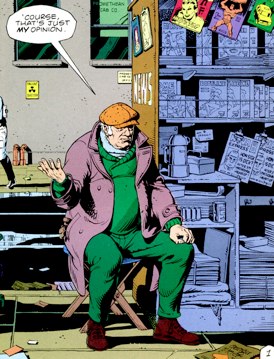 Let's assume we live a universe of infinite dimensions. Let's also assume that in one of those dimensions, we are aware of the this fact and have found a way to burrow a path another, concurrent dimension. Finally, let us assume it is 1985 and you need to communicate with other travelers from your point of origin.
How do you get in touch? How do you do it under the radar?
The alt weekly personals… duh.
In the fall of 1985, the Washington, D.C. City Paper featured a small ad in its "Personals" column which read: "O.T.O, A.A.: where are you, brothers and sisters?"

Readers of this section of the free paper state that the bulk of the messages in the personals are communications between members of the gay community, drug dealers, illegal immigrants, etc. dealers. The aforementioned ad, however, hailed the attention of anyone able to recognize the initials for the Ordo Templo Orientalis and Argentinium Astrum–occult lodges of the early 20th century, which might perhaps be experiencing a rebirth toward the latter decades of the same century. On the subject of these hidden messages in our cities' newspapers and journals, Jacques Bergier, the prolific French author and scientist, commented: "I've often wondered if certain strange classified ads in the newspapers are in fact messages between superintelligent beings." Bergier, coauthor of The Morning of the Magicians, dedicated a great deal of study to the problem of cryptology as a branch of paranormal research, and he also believed that even more detailed secret messages could be conveyed under the guise of specialized works, novels or even philosophical tracts.
Much more on this in the full article.
Twitter this