Posted by
Justin
on May 3rd, 2010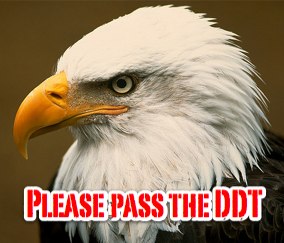 After a careful reintroduction program, Bald Eagles are flourishing in the Channel Islands of California. The only problem is there are now so many of them that food resources have become an issue and researchers are worried they might start eating seals that are tainted with the same poison that wiped out the Eagle population in the 1960s.
To make ends meet, the predatory birds may be forced to scavenge on marine mammal carcasses, the blubber of which is still laced with DDT—the same pesticide that infamously led to the near extinction of bald eagles across the United States.

"Eagles are opportunistic, and as their population grows, they might switch their diets … to include carrion from local sea lion colonies, which is a very abundant food source, for sure," said study co-author Seth Newsome, a biochemist at the Carnegie Institution for Science in Washington D.C.
The more things change, the more Bald Eagles can't stop finding new ways to gobble DDT.
Twitter this