Posted by
Justin
on April 15th, 2010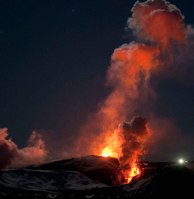 From CNN:
European countries shut their airspace one after the other Thursday as a cloud of volcanic ash wafted over from Iceland and posed a danger to flights.

Airspace over the United Kingdom was due to be closed for six hours from midday but air authorities later extended the closure until at least 7 a.m. BST (2 a.m. EDT) Friday…

In all, around 3,000 flights across Europe were expected to be affected by the closures, according to Eurocontrol, the intergovernmental body that manages European air travel.

Many airports were already shut and flights were grounded across the United Kingdom on Thursday because of the ash, which came after an eruption under an Icelandic glacier early Wednesday, airport authorities said.

The ash cloud came from an eruption of a volcano beneath Iceland's Eyjafjallajokull glacier early Wednesday.
…just as you were getting used to paying for checked baggage, this happens.
[CNN]
Twitter this