Posted by
Justin
on April 19th, 2010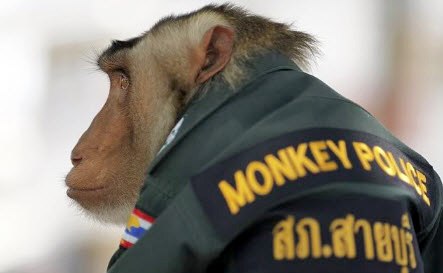 If this isn't the coolest picture ever taken, I don't know what is.
Santisuk Phromdao is a pig-tailed macaque monkey from Sai Buri district, Patttani province, southern Thailand. Although only five years old, Santisuk patrols the streets of Thailand everyday dressed in a blazer with the words 'Monkey Police' laced across it.

According to Thailand's Nation newspaper, Santisuk was adopted by Pol Col Yutthapol Phromdao Yutthapol, who, after discovering the injured monkey at a local clinic, recruited him into his squad, thereby turning the simple-minded primate into the first-ever monkey cop.

Satisuk's tour of duty began at a local checkpoint, where Yutthapol taught him how to collect coconuts and other fruits from locals by enticing him with bottles of delectable Vitamilk. Soon afterward, Satisuk's duties grew from mundane tasks into full-fledged public relations.
Halt citizen!
[Weird Asia News via Derren Brown Blog]
Twitter this