Posted by
Justin
on January 6th, 2010
Brett Rounsaville is special to iTricks. Follow his hobo adventure at Amtrekker.com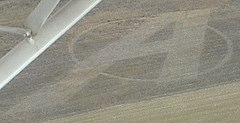 After nearly two years wandering America as a homeless vagrant I'm no stranger to the weird. Like a bedbug outbreak it jumps quickly from city to city, always lurking just beneath the sheets. Sometimes you have to flip over your Temperpedic and bust out the magnifying glass, but make no mistake, weird moves fast, procreates faster, and it's just waiting for its chance to leave its itchy red marks on each and every one of us.
Beulah, MI
Fact: Northern Michigan is known the world over for three things. Cherries, unemployment and locals eager to help out a vagrant on a quest to experience weirdness first hand and create a crop circle.
Upon hearing of my desire to learn to speak the language of the aliens (a.k.a. stomp on a bunch of plants using boards and rope) Amber, Colton, Brandon and cameraman Andy contacted me with the promise of untold acres of cover crop with which I could have my way. Knowing there was a giant blank canvas of Russian Knapweed at my disposal, how could I not hightail it to Beulah?!
However, things didn't go quite so well as one would hope.
Apparently the aliens know a few tricks I don't.
I'm done.
Brett.
Twitter this