Posted by
Justin
on December 4th, 2009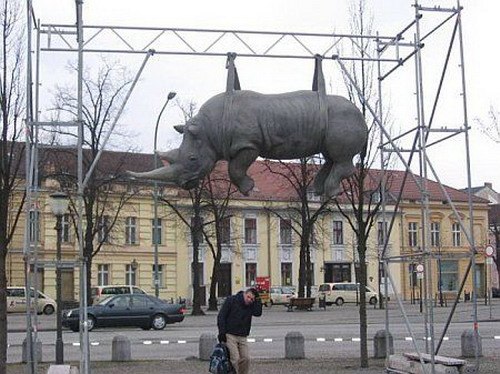 They serve as markers for the very society that came before us. Reminders of a bygone era in art, industry or culture that resonated on such a level it had to be publicly memorialized. Or someone just had a eff'd up idea and decided to build it 'cause it looked weird. It is in the spirit of the latter we dust off our disposable cameras, keep on the lookout for bird droppings and attempt to find… The Weirdest Statue In The World!
Here are the ground rules:
• Must be real.
• Must send picures.
Email all submissions to JustinRobertYoung@Gmail. I'll see you kids right here at the front page at 5:30 p.m. EST where we will hash out the ultimate champion.
Our baseline is this statue of a suspended Rhino, in honor of Matt's awesome stories of animal experimentation this week.
The truth is out there, we find it today at 6 p.m. EST.
Twitter this