Posted by
Justin
on October 30th, 2009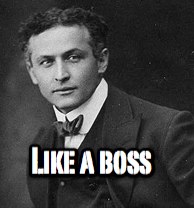 We are still unsure of the exact details on where but on the Weirdest Thing in the World chat today at 5:30 p.m. we are going to announce the official final line-up of celebrity word donors for our big Halloween Houdini Seance.
Other than that we'll go over some of our weirdest stories of the week and maybe even have a little mini-challenge to find the Weirdest Element of Houdini's Life.
Got a suggestion or a topic you want us to touch on, email JustinRobertYoung@Gmail.
It all goest down today at 5:30 p.m. EST on the Weirdest Thing In The World live chat. Believe…
Twitter this