Posted by
Andrew
on October 12th, 2009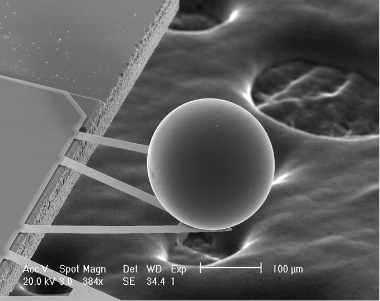 The US Defense department has green-lit a two-year $10 million dollar program to look for practical applications of the Casimir Effect. This is a quantum of effect with potential in everything from energy to levitation.
It's the quantum version of the attractive force that pulls two ships at sea closer together when they're nearby. Hendrick Casimir, discoverer of the effect, speculated that two metal plates held apart from each other in a vacuum could tap into the energy in a vacuum that quantum electrodynamics predicts.
Getting actual energy from the effect has proved quite elusive. Now researchers are exploring the potential of the repulsive and attractive forces created by the Casimir effect. One possibility is levitation. From the Scientific American article, researcher Hong Tang:
Then we're going to engineer the structure of the surface of the silicon device to get some unusual Casimir forces to produce repulsion," he says. In theory, he adds, that could mean building a device capable of levitation.
We're all for device capable of levitation – even on the nanometer scale.
link: Research in a Vacuum: DARPA Tries to Tap Elusive Casmir Effect for Breakthrough Technology: Scientific American
link: Casimir effect – Wikipedia, the free encyclopedia
Twitter this