Posted by
Andrew
on October 14th, 2009
Sea Monsters are awesome. What's even more awesome than that? Live blogging your investigation of said sea monster in 1855! How is that even possible? In 1855 the New York Times was on the cutting edge of tech journalism utilizing telegraphs and locomotives to report the news live from the scene:
Having received this morning very private information, a vague account of the discovery of another sea-serpent near our city, we immediately dispatched seventeen of our reporters to the spot, having first "chartered" the "exclusive" right of the telegraph, and eleven locomotives.
By securing an communications connection via telegraph, reporters were able to send back a blow-by-blow account of their investigation as it unfolded.
Two minutes past 10 o'clock A.M – Serpent's head seen – struck at one of the party with a stick – blow missed – terrible splashing.
One o'clock P.M. – Serpent showing himself frequently; struck at by Zedekiah Hornbush; club hit Zeke Williams; fight; puddle very rily.
Two o'clock P.M. – Serpent hit by a boy with a stone; dove when hit with a triple bellow – (that sounded as if it came from a neighboring pasture,) rose to surface again; hit by Dutchman; blood flowing from Serpent's nose; awful scene; contortions of reptile; final capture.
What was this mysterious creature that Zedekiah and Zeke fearlessly confronted with their clubs? The report doesn't quite get into specifics other than to say it may be of the "Garter" species – which suggests that it's what we call a Garter snake today. They point out that there is no doubt he was in some relation to the Serpent that tempted Eve, "as he looks very wicked". Wicked indeed. Remember this was four years before Darwin published The Origin of Species.
The story is a fascinating read and well worth checking out: Sea-Serpent in Wisconsin–another Monster–Terrible… – View Article – The New York Times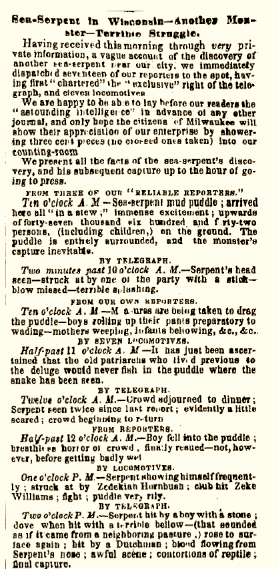 Inspired by this and recent accounts of a nearby sea monster, the Weird Things staff is contemplating live blogging its own expedition to find such a creature. We'll keep you posted.
Twitter this