Posted by
Justin
on September 4th, 2009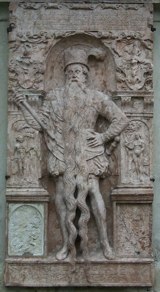 Today's Weirdest Thing In The World chat will shuffle off this mortal coil, friends, were talking death.
Here are the ground rules:
• Please shorten all entries to the bare bones of the why the death was strange.
• Include a picture of the dearly departed.
• All entries MUST be historically verified or be journalistically verified.
Email all submissions to JustinRobertYoung@Gmail. I'll see you kids right here at the front page at 5:30 p.m. EST where we will hash out the ultimate champion.
Here is our baseline, courtesy of Neatorama and found by Travis Lopes, the best live chat producer in the business.
Austrian Hans Steininger was famous for having the world's longest beard (it was 4.5 feet or nearly 1.4 m long) and for dying because of it.

One day in 1567, there was a fire in town and in his haste Hans forgot to roll up his beard. He accidentally stepped on his beard, lost balance, stumbled, broke his neck and died!
Let's face death, for only then can we appreciate life.
Twitter this