Posted by
Justin
on July 29th, 2009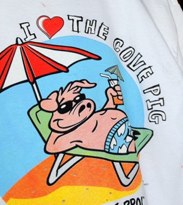 It's the Bo Duke of pork.
Some call it The Cove Pig, the politically minded refer to it as Freedom Pig for it's uncanny ability to throw off the shackles of an oppressive government and run wild.
The New York Times chronicles the wild adventures of an officially unnamed feral pig, currently clomping through the backwoods of Panama City, FL. Although it's been spotted many times and even after taken a taser and four tranquilizer darts during one capture attempt last week, the porky rascal continues to steal into the Sunshine State summer with supernatural stamina.
Local paper The News Herald is even keeping a Google Map for reported sightings.
Cove Pig's elusive nature has earned it a local celebrity with many Northern Florida residents rooting for it to continue evading police capture, which it has successfully for five months and counting. The snap you see to the right are shirts being sold at a local rest stop.
We're going to keep you up to date on the hunt for this clearly gifted swine.
Twitter this