Posted by
Justin
on July 15th, 2009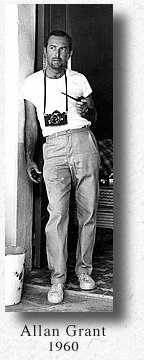 The one man who could have taken a picture of what really crashed in Roswell, NM in 1947 was bamboozled by a military escort into blowing his only chance to capture intergalactic history. That is the story told by an ailing Allan Grant, a legendary photographer for LIFE magazine dispatched to the desert to document "a meteorite."
Last year, a dying Allen told blogger Anthony Bragalia, he had since became convinced that his military escort was there to make sure he didn't got near the real wreckage of what crashed. Grant's wife crystallized her late husband's points.
Grant's widow continues, "You take them someplace near -but not exactly to- the spot. Show the world there's nothing there- and everybody is happy and relieved, and you can go about your business." She believes that "perhaps they thought you could keep other media out of there if need be by saying that Life has already been there, and they found nothing." And she was right- no mainstream media reported on the event after the first wire stories based on military press releases.

Before Allan died, he told Karin that he always believed that he was "used" by the military as a "potential cover" to in some way obfuscate something. He told her that the "something" what he had always thought -even at the time- was much bigger- an unidentified flying object.
Very interesting read.
Twitter this