Posted by
Justin
on July 24th, 2009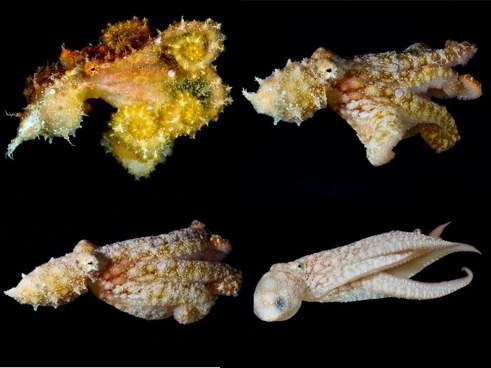 As this site continues to grow, I've come to realize that the few readers we have are incredibly passionate about this brand of oddity. So in that vein I introduce a new reoccurring Friday feature, The Weirdest Thing In The World.
The game is simple, each week I will name a category and you folks have to find me weirder examples of said topic. For example, if the category was "self-modified faces" we might start with a picture of Mike Tyson's face tattoo which would be trumped by Cat Man and so it goes until we have crowned a winner.
The final decision will be made in our Weird Things TinyChat room at 5 p.m. EST. So basically as soon as you've finished your work for the day just click over and see the Weirdest Thing In The World to start your weekend!
The first installment of this series will be… Sea Creatures. The only rules are that the specimens have to be real, so no cryptids. The picture above of a Abdopus abaculus is where the bar is set. Find me something weirder… I dare you.
Send all photos to JustinRobertYoung@Gmail. Good hunting and see you at 5 p.m. EST!
Twitter this