Wednesday, September 28th, 2011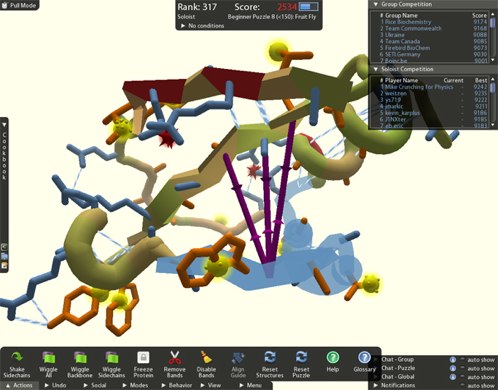 Have you ever been playing a game, put down your controller, and thought "I should be doing something more constructive with my time"? Well no need to think that anymore, in fact, you should probably even pick that controller up and work a little harder on your gaming skills, you may be able to find the cure to some horrible disease!
That's what gamers at Washington University have done, with the help of scientists and a program called Foldit, a game created and developed by Seth Cooper. The game was designed to see if the intuitive mind of a gamer could solve complex problems that scientists have been struggling with by turning the mapping of protein into a competitive game. "We wanted to see if human intuition could succeed where automated methods had failed", said Firas Khatib of the university's biochemistry lab.
After testing the gamers capability to solve the puzzles of a number of "almost" solved proteins, Khatib decided to step in with a protein that he had personally tweeked. What protein was that you ask? The Mason-Pfizer monkey virus (M-PMV), a close relative of HIV.
With the findings they are potentially able to develop new or improved drugs to help fight HIV and AIDS.
This is probably the first time the gaming community has helped solve a longstanding scientific problem, but it's bound to be the beginning of a new innovative way of problem solving, and quite possibly leaps in technological advancement.