Posted by
Tony
on March 27th, 2015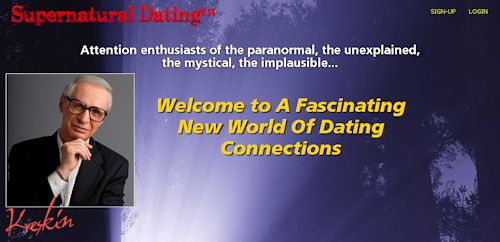 In a move only he could've seen coming…you know….because he's who he is…the Amazing Kreskin has opened the gates on a new dating site…
A site for "enthusiasts of the paranormal, the unexplained, the mystical, the implausible…"
While we're pretty sure the guy-to-girl ratio will probably be a lot like a magic club, Kreskin is predicting (yeah…we know) great things for the site:
"I have a feeling that it's going to take on a dimension that I never realized."
With Kreskin's foresight that online graphic design will eventually swing back around to the geocities-era of the internet, the site will probably lure a niche market of older folks who have seen, captured or smelled a bigfoot or been abducted by time-traveling Atlanteans who need love just like the rest of us.
Which brings up some questions: What sort of beings are looking for love? Will they all be human or other things in diguise? Are there vampires and werewolves worried about the fall out from a public tryst in light of the Twilight movies? Are there off-world species seeking to swing it with a human for a cheap thrill on their way to somewhere else? Are the reptilians using the site for some sinister plot? Will other creatures find that someone special without having to brave daylight, pitchforks and torches?
Or is it just a bunch of lonely, probably really nice people just looking for a little companionship in a big and often harsh, ridiculing reality?
Answers will only come with time…
And filling out the sign up page.
[I09]
Twitter this