Posted by
Tony
on February 24th, 2014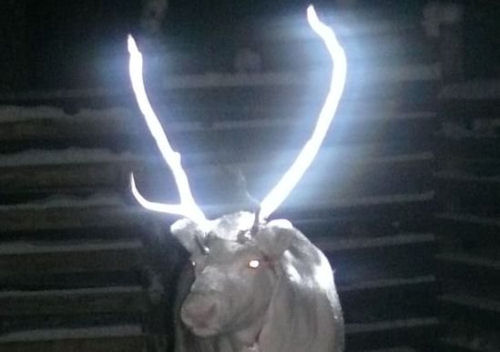 Any time you mention the word 'reindeer' most people conjure up a fond memories of Rankin/Bass Christmas specials from their childhood, sing "Rudolph the Red-Nosed Reindeer or just freak out because you just reminded them they're only three shopping days left until Christmas.
Unless, of course, you live in Finland….
Where you'll probably have nightmares about eerily glowing reindeers who wander the forests at night.
Every year in Finland, almost 4,000 potential sleigh-pulling reindeer are struck by motorists. In order to protect these animals and save Christmas, the Finnish Reindeer Herders Association (yep…it's a thing) has come up with an idea that will probably result in more motorist crashes when drivers try to avoid killing what looks like a ghost-demon reindeer.
By painting the reindeer's antlers with reflective paint, the Finnish Reindeer Herders Association is hoping to keep the mayhem to a minimum next year. They're currently just splashing the reflective tape on the animals' fur to test the theory while Canada, who's suffering similar issues, simply wants to paint some reflective lines on the road and maybe put up a sign saying, "SLOW DOWN OR YOU'LL PROBABLY KILL A REINDEER!"
We're looking forward to posting stories about people who do NOT know this is going on in the wilds of Finland and post stories to the internet about "Satan's Reindeer", "Reindeer Ghosts of Christmas" or the conspiracy stories that Nikola Tesla once developed a freaky form of reindeer that channels electricity through its eye-holes and antlers.
No…really…look at that picture up there…eight of those, and one with who-knows-what coming out of its nose, will be on your roof in a couple of months.
Twitter this