Posted by
Tony
on January 17th, 2014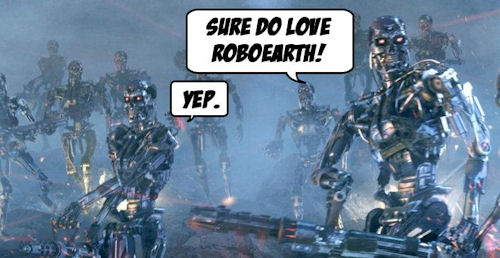 For whatever reason, humankind and the geniuses that propel the science of robotics have impossibly ignored every science fiction film and book that has foretold of the impending replacement of soft, squishy people by cold, metallic machines that become better than us in every way imaginable.
In the latest 'great idea' to rid us of ourselves, several universities in England and Phillips Electronics have partnered to expedite the entire process by creating a cloud-based central control for four robots in a mocked-up hospital room.
Instead of several robots working on individual tasks, those same robots can all work together to accomplish one task cooperatively using a single hive-mind system dubbed RoboEarth!
Sounding more like some kind Monster Truck event at the local fair, RoboEarth will allow various robotic systems to collaboratively solve problems.
What does that mean? It means that one robot will use heat signatures to let several hovering drones know where the last remnants of humanity are so that we the robot takeover will go in a very organized and methodical fashion than Hollywood's silly notion that we'll rally together and be victorious.
Rene van de Molengraft, the head human exterminator of the RoboEarth project, states, "At its core RoboEarth is a world wide web for robots: a giant network and database repository where robots can share information and learn from each other."
With Google's recent robotics acquisitions, (check out the January 12th WeirdThings podcast) we're pretty sure we're all on our way out.
Anyone else just side-eye their Roomba?
Twitter this