Posted by
Tony
on June 13th, 2013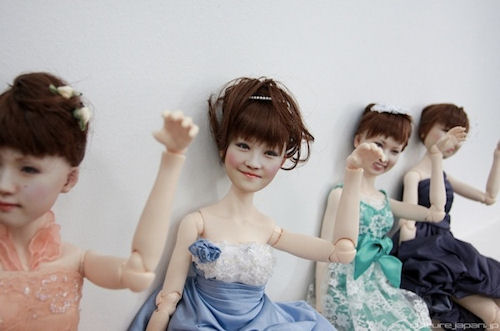 Akhibara, Japan is the place to go to get just about anything you want in life…even if that anything includes wanting a creepy doll-like clone of yourself.
Recently a company called "Clone Factory" opened which now allows you to not only have a 3D-printed doll-head of your own mug but your pets as well.
Using several DSLR cameras, Clone Factory captures your face from different angles, puts it all together in the computer, prints it and hands you a bill for $1,300 US bucks.
Clone Factory uses one of the most advanced 3D printers (made by ZCorp) on the market to print out these plastic little mini-selfs of its customers. Disney recently used these same printers during their annual Star Wars Weekends at Walt Disney World where guests could either have their likeness frozen in a slab of carbonite or put onto the body of a Stormtrooper (complete with detachable helmet).
Most of Clone Factory's customers are actually women. Not only do the women seek to preserve how they look on special days like their weddings, they also have the exact outfits they're wearing at the time as well as their hair and make-up recreated as well.
Which doesn't make any of this any less creepy.
[DesignTaxi]
Twitter this