Posted by
Tony
on April 7th, 2013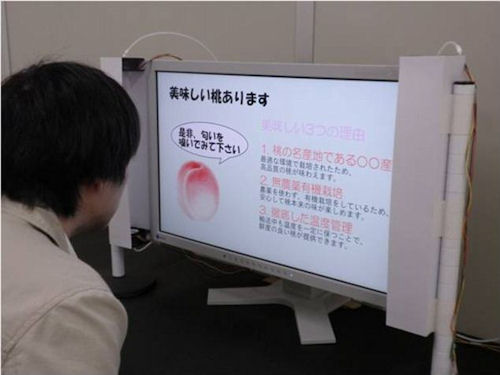 Recently a group of Japanese scientists at the IEEE Virtual Reality Conference in Orlando, Florida have unveiled
the latest incarnation of…
(sad, loungy drumroll please)
Smell-O-Vision!
That's right. Scientists have been working hard at making your television smell.
Do we really need to smell the elephants of Africa while watching a beautiful documentary about the animals?
No. Not really.
But advertisers sure would like us to get a whiff of things like the latest addition to the IHOP menu, the latest
colognes and Pilsbury would take the obesity problems in America to a whole new level when that little chubby, animated
chef shows up shoving a tray full of warm, delicious chocolate chip cookies in our faces.
Using gel pellets placed at the four corners of the monitor and small air-streams, scientists are able to get fairly
specific across the face of the monitor where the smell will seem to emanate from. Think of it like 5.1 surround sound but
your nose is the one in the recliner experiencing it.
Modern day theme parks like Universal and Disney often use gel packs or cartridges to send the smell of candy, food or, in the case of Universal's
Halloween Horror Nights, the smell of rotting meat to add a subtle something to guests' in-park experience.
What was unveiled at the conference is still fairly primitive but technological developments will continue to improve and
pretty soon you could be smelling the oil and smoking metal of Call of Duty…
Or the sweet, acrid smell of a Well Zombie from the Walking Dead.
Twitter this