Posted by
Tony
on February 11th, 2013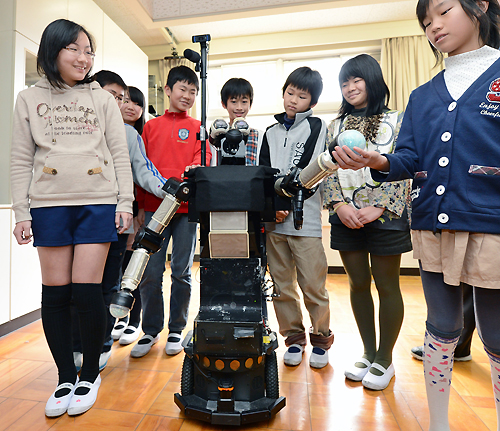 We're always making references to the 'Robot Apocalypse' or about all of us being enslaved by 'our future overlords' when it comes to our slowly evolving erector set-like counterparts. While 30 and 40-somethings stand around and make jokes, robots continue their often awkward baby-steps into being a part of our lives.
But what about the children?
You know…the children forced to oil the joints of the those aforementioned 'future overlords' so that they can continue their 'overlording' of the humans?
Those children won't be worried because they'll have grown up with robot friends at school.
Friends like 'Robovie'.
Higashihikari (sneeze it and it'll sound just fine) Elementary School in Kyoto began a 14-month experiment just a few days ago where a new 'student' joined the fleshy ankle-biters' ranks in order to collect data that will help 'Robovie' and other tin-men of the future to interact more naturally with various people. That way, instead of speaking atomic-age sci-fi robotic phrases like "You will not be needed" or "Exterminate!", they'll be sitting us down quietly and gently breaking the news our enslavement is really for our own good.
Although this isn't the first time that a robot has been placed in this kind of environment, this will be the longest amount of time that a robot has spent in the harsh, Lord of the Flies-like habitat of the elementary school student.
Good luck surviving that, Robovie.
Twitter this