Posted by
Tony
on January 16th, 2013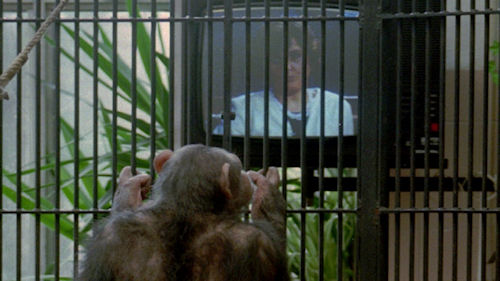 While we all wait for the scenes in Planet of the Apes to play out in real-life, a female chimp named Gina will give us all a glimmer of hope that at least a small percentage of our future primate overlords will need us for a little sumthin' sumthin'…
Even if that something's acting out her favorite love scenes from high-quality fare like 'Slappin' Bumpies 2′.
For those still catching up…
Gina is a female chimp at the Seville Zoo in Spain. As part of the zoo's enrichment program, Gina was given her very own remote control for a television mounted to a wall near her cage.
Not long after Gina began figuring out how to work the remote, she also found that she preferred certain channels over others.
Those 'certain channels' were the ones that featured the people that kept her in cages riding one another like pack animals (obviously we're skirting the 'P' word because that tosses red flags).
Pablo Herreros, the zoo's primatologist wrote in his paper on Gina and her viewing preferences:
"The surprise was when they found that within a few days, Gina was not only using the remote control perfectly well, but that she also used to choose the p**n channel for entertainment, as many of us would have done."
At least we know there'll be a few sympathizers we can count on when we end up in cages with bad day-time television blaring at us.
Even if they just want us for our bodies.
We went there.
Twitter this