Posted by
Tony
on December 10th, 2012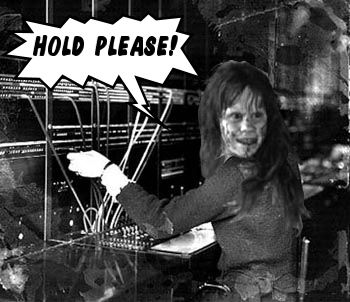 Who ya gonna call when someone you know or love or even yourself is suffering from demonic possession?
Answer? Not the Ghostbusters.
No. You're going to call the Catholic Church. Not because the Ghostbusters are a fictional group of ghost-catching celebrities who can't get their act together for that long-awaited third film.
You'll be calling because the church is offering the service in the real world and the big clincher in our recession-slammed economy…it's free.
The Catholic Church's largest diocese is located in Milan is now offering exorcisms over-the-phone.
Chief exorcist Monsignor Angelo Mascheroni has recently doubled the amount of people manning the phones because of the increasing level of possession.
"We get many requests for names, addresses and phone numbers; that's why we've set up a switchboard in the curia from Monday to Friday from 2.30pm to 5pm. People in need can call and will be able to find a priest in the same area who doesn't have to travel too far."
Monsignor says that most of the calls that come in are simply parents of disobedient teens that are dealing with typical disobedient teen stuff and that the actual phenomena of demonic possession are rare. Other calls from parents claiming their child is possessed are, sadly, simply children with psychiatric or mental disorders.
We're just wondering when the app will drop.
Twitter this