Posted by
Tony
on September 17th, 2012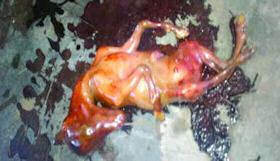 Right up there with Geena Davis' nightmare of giving birth to Jeff Goldblum's little baby 'Brundlefly' comes a story about a woman giving birth…
To a horse.
During a program about prophecy, a female member of the Worshippers of the World Liberation Ministry began screaming during a prayer session and began bleeding from her girl-parts.
Evangelist Silva Wealth, referred to as the General Overseer of the church told journalists that a revelation came that a woman among them had an issue and that something was blocking her womb.
Wealth claimed that as prayers from church-goers became more instense, the unidentified woman started delivering 'the object'.
A cleric of the church wouldn't go near the thing:
"I can't describe the object. We have seen people that vomited several things during our service but not this type of thing. God has been blessing our ministry with prophesies and miracles, "he said.
That 'object' was a still-born horse.
As people begin to flock in droves to the church where this event took place, we can only imagine what kind of disturbing swag the inevitable gift shop is going to be pushing.
Twitter this