Posted by
Tony
on August 8th, 2012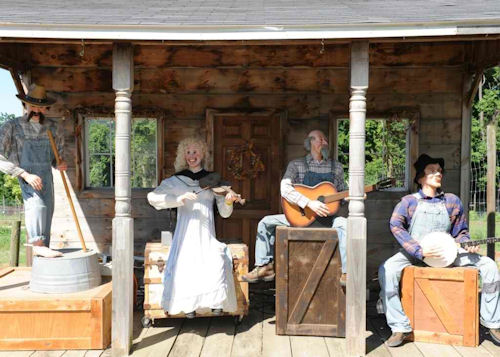 Got an event coming up real soon? Maybe a wedding? Maybe a birthday?
Well in case you are and you're wondering where to find memorable entertainment for your party? Look no further than Ebay.
Right now, because of a 'changed business model', you can now have an entirely Hillbilly band play at your event!
A petting zoo/amusement park in Massachusetts has decided to bid farewell to this frightening group of robotic performers designed and built by an ex-Disney Imagineer (we kinda get why he's an ex-Imagineer).
Originally this band cost the company $15,000. They're letting go of the whole group, including the porch if you dismantle it yourself, for a steal at $5,000! Total deal.
You only have a couple of days left to snag the entire group so you'll have that special 'something' that leaves an impression on your event's guests that they'll never forget..
Like when they all suddenly stop playing, turn their heads to look at you with their unblinking stares and then quickly return to playing one of their beloved jigs.
[Ebay]

Twitter this