Posted by
Tony
on July 9th, 2012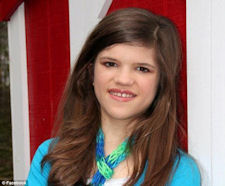 Imagine not being able to feel pain. Sounds great, right? Games of 'Slug Bug' or 'Butt Ball' would be much easier to handle, right? Stubbing your toe wouldn't suck as much. Banging your head would never be an issue again. You'd feel like a freakin' warrior because you don't feel a damn thing.
Now for the downside…
What if you developed appendicitis or something else as internally life-threatening? You'd have no indication anything was wrong until it was seriously too late.
That's the case with 12-year-old Ashlyn Blocker of Georgia. Ashlyn was born with Congenital Insensitivity to Pain with Anhidrosis (CIPA), a extremely rare condition that kills most people born with it when they're just toddlers. Babies born with CIPA might have something severely wrong, yet they won't cry because they just don't feel anything.
As an infant, Ashlyn had a huge corneal abrasion across her eye. Everyone was astonished that she wasn't crying over what, to most people, would be a painfully excruciating sensation.
CIPA affects about 100 people in the United States every year.
Ashlyn is not letting anything stop her from doing what she wants. Described as a determined girl, she is currently working with doctors at the University of Florida to understand how our brains interpret pain. This tough little girl has also started a summer camp called 'Camp Painless But Hopeful' to help other families whose children suffer from CIPA.
Twitter this