Posted by
Tony
on June 15th, 2012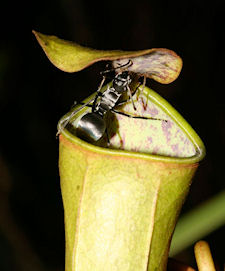 Carnivorous plants are as sneaky as they are creepy. What they lack in speed, they make up for in shady tactics to attract and snag prey.
The standard 'Pitcher Plant', shaped like something you'd pour Evil Nectar-flavored Kool-Aid from, draws its intended prey into the bell portion of it's diabolical design. Once the prey slips on the wax-like coating covering the interior of the plant, it falls into the bottom of the pitcher and the plant's digestive enzymes begin the horrific process of breaking down its latest victim. Some of the bigger species of Nepenthes Gracilis (the Pitcher Plant's fancy latin moniker) have even been seen luring, trapping and digesting small birds.
Why are we rehashing something a lot of our readers might know about?
Evolution.
Something unique is happening to help keep trap more prey into the Pitcher Plant. The thing is developing a new trick.
On top of the large 'bell' portion of the plant is a lid. Up until this new discovery, Pitcher Plants have only used the lid for keeping out rain. Now the underside of the lid has developed its own advanced waxy coating that potential food feels securely attached to. The trick is that the feeling of security that an insect feels clinging to the underside of the lid is a sham! A raindrop hitting the top side of the lid will cause most insects clinging underneath to be knocked down into the Pitcher Plant's sweet death-nectar.
Let's just hope that these things don't decide that developing legs might be something fun to do.
Twitter this