Posted by
Tony
on June 29th, 2012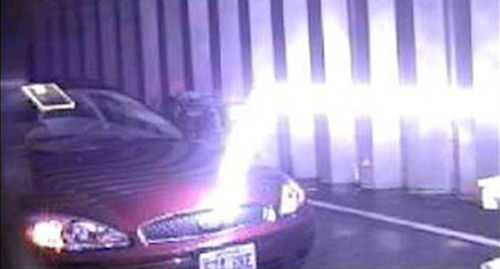 Here's your 'Hell Yeah!' moment of the week!
If you enjoy phrases like "a device that shoots laser bolts" or "50 billion watts of optical power" you may want to continue reading about how the military is weaponizing lightning with a device called the Laser-Induced Plasma Channel, or LIPC.
Picatinny Arsenal scientists and engineers in New Jersey have developed a lightning bolt weapon by sending a ridiculously fast laser pulse that basically rips the air apart causing a narrow, electromagnetic channel. Immediately following this moment of scientific awesomeness, a lightning bolt is sent along that channel straight to the unfortunate target.
George Fischer, lead scientist on the project gave one of our favorite statements about a developing military weapon. Fischer stated, "We never got tired of the lightning bolts zapping our simulated (targets)."
Can't really argue with that.
[Army.Mil]
Twitter this