Posted by
Tony
on June 15th, 2012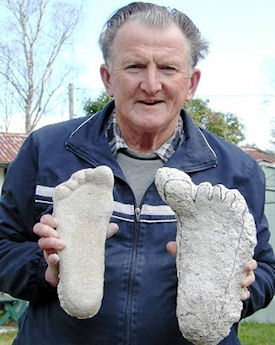 Bigfoot news is ripe now that Animal Planet's "Finding Bigfoot" is reinvigorating the hunt for the apparent ninja-trained mysterious icon of cryptozoology.
On the other side of the world from Idaho's recent sighting, comes reports of Australia's version of the creature..the Yowie.
Fresh tracks and sightings of the creatures appearing near the city of Lismore have caused Rex "The Yowie Man" Gilroy (best name ever for a crypto-hunter/adventurer) and his wife Heather, who founded the Australian Yowie Research Centre back in 1976, to leap into action in hopes of capturing evidence that the creature exists.
Lately hikers in the Lismore area have claimed to see what appears to be a male and a female creature along the trails. Reaching out to locals and heading out this time with a team of cryptozoologists, Gilroy is set on collecting new evidence to show people that this strange and elusive creature is absolutely real.
We can't wait to hear about the further adventures of Rex Gilroy: Yowie Hunter.
Twitter this