Posted by
Andrew
on May 22nd, 2012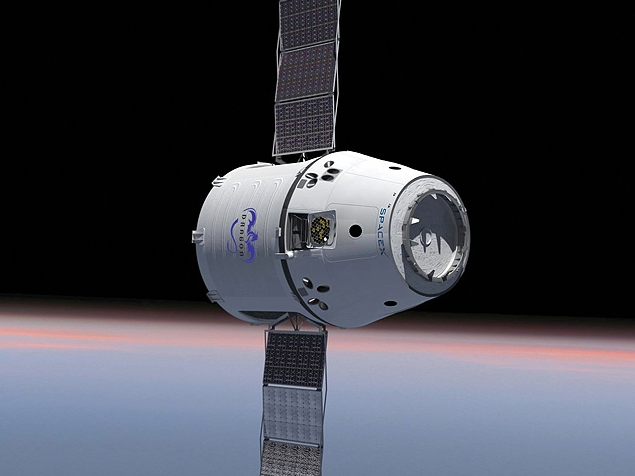 This morning the world woke up to find out what the rest of us stayed up and watched happen: SpaceX launched their second spacecraft into orbit on a first of its kind mission to the International Space Station. The next few days involve more technical challenges. In a procedure akin to shooting a missile going 22,000 MPH into a trajectory with the ISS; SpaceX will try to pull off a rare feat capable of only a couple nations.
Meanwhile, what's next for SpaceX?
Things are only getting started. Elon Musk has proposed an incredibly ambitious program for his company which is barely ten years old.
FALCON HEAVY
While SpaceX continues cargo flights to the ISS and launching satellites, next up is the testing and launch of the Falcon Heavy. SpaceX isn't content with just building a replacement system for getting into space, they want to push the envelope even further.
Falcon Heavy is a rocket with 27 Merlin rocket engines (versus the Falcon 9's nine). Slated to start testing later this year, Falcon 9 will be the most powerful rocket since the Saturn V's that took us to the moon.
That's this year.
The most powerful rocket in the world.
It's the kind of rocket you'd use to send people to Mars.
Let me repeat, THEY PLAN ON TESTING IT THIS YEAR.
Even if it takes another year or two to get this up, anybody wants to to see what a mission to Mars will look like can take a trip like Justin Young and I did last night and watch SpaceX light the candle. This time on 27 Merlins instead of nine.
Check out an animation of this bad boy.
DRAGON CREW CAPSULE
SpaceX is building a Mars capable spaceship today. The bird flying over our heads right now is a proof of concept of a lot of the technologies that will go into making that happen. The most important system is safety.
To make the Dragon spacecraft the safest crewed space vehicle in the world, they need to build an escape system – something the Space Shuttle never had.
The Dragon will have built-in thrusters that will allow the spaceship to separate from the second and third stage in an emergency and land via parachute or rocket power. This rocket-powered launch would even allow the Dragon to land from orbit back on the launch pad without a parachute.
That's crazy Buck Rogers technology, but that's the plan. In researching the feasibility of this, Elon Musk and the SpaceX team came up with the most crazy idea yet:
A FULLY REUSABLE SPACECRAFT
Instead of trying to pull your rockets out of the sea and rebuild them, why not have them land back on the launch pad. While companies like Blue Origin are trying to build a single-stage to orbit system, SpaceX is developing a far more fuel efficient system that would allow each stage to land by itself.
A fully reusable rocket would take off and separate into two stages and a spacecraft. Each one would then use rocket thrusters to land back on the launch pad where they'd be inspected and refueled.
This is the space age version of passenger jets. SpaceX is working on this right now. Not 'someday', not in 'the future'. Engineers are trying to solve these problems as we speak. The systems that go into making the Dragon crew-capable lead into the systems that will allow you to let your primary stage land back on the platform.
The cost savings are incredible. The Shuttle cost from $10-20,000 per pound. Falcon 9 costs about $2,300. A reusable craft takes this below $100. From $10,000 per pound to $100 in a decade. It could even go lower. Cheaper than a space elevator. Now that's crazy talk.
You can see SpaceX's vision for this in the animation. You can go outside and look up at the first step towards this right now.
The future is happening.
Elon Musk explaining reusable rockets
Twitter this