Posted by
Tony
on May 29th, 2012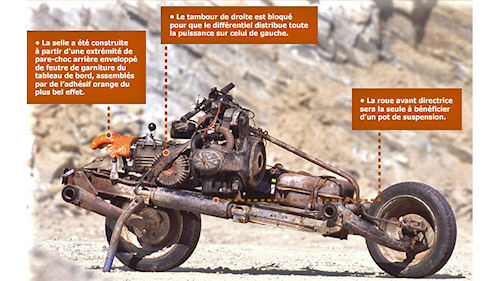 If Elon Musk and MacGyver had a love child its name would be Emile LeRay.
Emile had left Morrocco and was going to drive across the Sahara in a specially prepared Citreon. His plans came to a grinding halt when he came across a military outpost that would not allow him to continue on. He was then told that he'd have to take someone (military personel) back to the nearby city of Tam Tam to ensure he followed their orders. LeRay states that a provision in his insurance doesn't allow for him to have passengers. He turns the Citreon around and speeds off back the way he came as fast as he could get the car to go to avoid being followed by the military.
Determined to cross the Sahara, LeRay, now out of site of the outpost and the military, heads the car in large arc back toward the Sahara and around the outpost. On his way back to the road beyond the outpost, the Citreon encountered some serious terrain. Hours and miles later, the Citreon breaks down in the middle of the Sahara.
Calling upon his inner MacGyver, LeRay formulates a plan and begins breaking apart the Citreon.
Over the course of the next twelve days LeRay transforms the Citreon into a motorcycle straight from an apocalyptic future where salvaging is the new couture.
With only a small amount of water left, LeRay's 'Desert Camel' (what the bike's been nick named) sputtered to life and, after almost two weeks living in the shelled body of the Citreon, Emile continued on his adventure.
Ironically, Emile was pulled over by the military as he neared civilization.
And not for running a military outpost…
But for driving an illegal vehicle.
[Gizmodo]
Twitter this