Posted by
Ryan
on February 2nd, 2012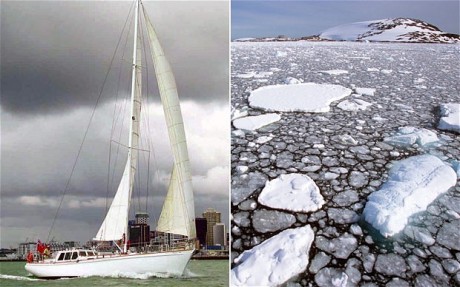 I don't even know where to begin with this one, so lets just start with the opening paragraph:
"A New Zealand repair man is on his way to Antarctica after a renegade Norwegian yachtsman set sail unaware he was still on board."
Apparently, a marine mechanic was still working on the 52 ft Nilaya in Auckland when Jarle Andhøy and crew hurriedly cast off  to avoid being served deportation papers. Andhøy, who has declared himself a "Viking", and crew and bound for the Ross Sea without a permit and in defiance of both the New Zealand and Norwegian governments.
Mr Andhoy told the Norwegian public broadcasting service NRK that the presence on board of the unnamed New Zealander was not part of his plan, but was the result of "a hectic departure" from Auckland last week.

He said it was "a somewhat tricky situation" because the man did not have a passport or papers with him.

But Mr Andhoy insisted: "Everything is on schedule and the atmosphere is good on board.

"We are well prepared for what may befall us."
In case you missed the subtle inference  – the mechanic is along for the ride. Returning him seems to not even be a consideration on the table.  At this point you may well be wondering what are they doing that is so important. Approximately a year ago, Andhøy lost another vessel, the Berserk, on another Antarctic exploration where three men died and he is attempting to locate the wreckage. New Zealand is "furious" because last year they coordinated the entire search and rescue operation and they do not want a repeat this year. Andhøy has an answer for that as well:
The broadcaster reported him as saying that the Nilaya was not carrying a locator beacon so it would not put rescue services at risk.
So, lets recap this if we can – A rogue Norwegian adventurer accidentally kidnaps an New Zealand mechanic on an unpermitted Antarctic expedition in search of his last sunken ship without the use of a rescue beacon. Somehow I do not think that this is the end of this story.
Twitter this