Posted by
Simone
on October 14th, 2011
Simone Allyne is the Weird Things eBook reviewer focusing on readily available, affordable Science Fiction and Fantasy. If you have a book you'd like reviewed, please email WeirdThingsMail@Gmail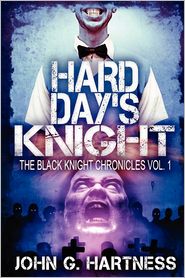 "Sometimes I wonder what it would be like to just eat people, like a normal vampire, but no, not only do I have a conscience, I have a roommate with a Kal-el complex and a priest for a best friend. "
I love vampires and I love detective stories, so imagine my excitement when I came across Hard Days Knight by John Hartness!  He's taken two of my favorite genres and combined them into one heck of a story!
It's the week before Halloween and all Hell is about to break loose, quite literally.
Vampire private detectives Jimmy Black and Greg Knightwood have been hired by a young boy to keep him from being cursed for all eternity, but end up with a bigger problem than they could have ever imagined; a problem roughly the size of the 7th circle of Hell.
Hartness writes a story that feels like a cross between Moonlight and Cara Lockwood's Every Demon Has His Day.  His writing is witty, culturally relevant and has a good dose of pop culture references to keep you turning the pages to see just how bad it can get for these two self-professed nerdy, permanently college-aged vampires.
Our protagonists find themselves trapped in the middle of a multiple kidnapping case, during which Jimmy and Greg uncover a plan to bring forth an archduke of Hell.  In their attempt to thwart a literal Hell on earth situation they enlist the help of a police detective, a priest, a witch, and a fallen angel (who also happens to own strip club) to save the world. This unusual group of human and non-human band together to stop zombies, witches, neuroses and potentially the worst sunburn of their lives while cracking jokes and searching for the perfect midnight snack.
Hard Day's Knight is a perfect fall read, just in time for Halloween!
[Amazon]
Twitter this