Posted by
Simone
on September 16th, 2011
Simone Allyne is the Weird Things eBook reviewer focusing on readily available, affordable Science Fiction and Fantasy. If you have a book you'd like reviewed, please email WeirdThingsMail@Gmail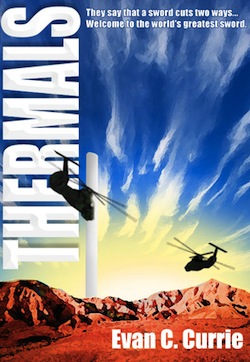 If you are looking for intriguing characters, antagonists with a very plausible attack on society, and fast moving plot that will leave you holding on for the next turn, then Thermals by Evan C. Currie is for you!
With a fascinating premise, characters that evolve, and science that has me wishing for tomorrow, Evan's novel delivered a great read that had me waiting for the next adventure of Anselm.
When Interpol Inspector Anselm Gunnar assigned the job of tracking down one of the world's most wanted eco terrorists, he is expecting the job to be a straightforward liaison assignment with the local police. However, the inspector is about to learn that the man everyone thinks is hiding from the law is actually planning something much worse then any thing he has in the past.
The story builds logically from the methodical actions of one agent to a frantic skirmish involving a large number of characters both good and evil.  Both the villains and the heroes are well written and intelligent, lending the main characters Amir and Anselm believability.
The science behind the power generation, and detailed descriptions make the Tower an intriguing and edgy backdrop to this story of bio-terrorism.  The science fiction elements are fairly light, very near-future stuff.
Thermals is a fast moving near future thriller about terrorism that will keep you turning the pages as fast as your eReader, and your eyes can. From the start it builds to a rising crescendo that will leave you winded and cheering.
[Amazon]
Twitter this