Posted by
Simone
on August 3rd, 2011
Simone Allyne is the Weird Things eBook reviewer focusing on readily available, affordable Science Fiction and Fantasy. If you have a book you'd like reviewed, please email WeirdThingsMail@Gmail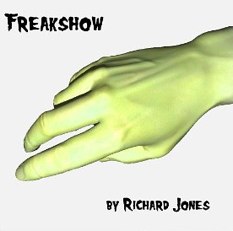 Ever wonder what it is like to be a girl genius running the Interdisciplinary Departmental Investigation Of Technomagic? Freakshow, a short story by Richard E.D. Jones, takes you inside the Interdisciplinary Departmental Investigation Of Technomagic or as it's more fondly called "The Freakshow."
The description of the Freakshow lab reminds me of the survival horror game Nocturne in which the main character works for a government organization called Spookhouse that operated like the FBI for all things supernatural.
Freakshow gives you a glimpse into the life of Natalie Harper, girl genius, who runs the Interdisciplinary Departmental Investigation Of Technomagic.  While working insider her lab, we get to see a typical day for Natalie, if it can be called typical when she is asked questions like "Where should I put the head, Dr. Harper?"  But after all she does have a hand for an assistant!
Jones creates a world of horrible wonder with Frankenstein heads in boxes, mysterious eggs, and an otherworldly beautiful man that is hell bent on tempting Natalie to join him and his nefarious ends.
I found Freakshow to be very refreshing because of the strong female lead character, but also found her assistant Vincent was an unexpected and enjoyable twist. Natalie herself is beyond smart, personable and easy to relate too.  This, along with the fantastic world she portrays, makes this short story a good read for the female Sci-fi enthusiasts but is not exclusive to women… so don't be afraid boys!
One downside to Freakshow is that it had the makings of a full-length novel and could have easily been expanded to a full series, diving into more of Natalie's adventures while working at Freakshow.  And that is my only point of contention with this story.
If you're looking for a fast, and I do mean very fast, read and something that is on the lighter side of Science Fiction, but still an amazing story that you should definitely read!
[Freakshow is available on Amazon for .99 cents]
Twitter this