Posted by
Ryan
on May 30th, 2011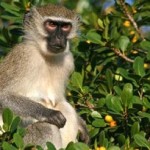 This is actually a really horrible story. A vervet monkey was killed and burned in South Africa by a mob who was convinced it was a witch. Bonus awful points – the police helped out by shooting at the monkey.
It reported that the monkey wandered into the settlement last week Monday, May 23, and was pelted with stones, shot at by police, and then burnt to death.

Moswetsi was woken up by friends on Monday morning and told about the monkey. They said it was going around Kagiso "talking to people".
Hopefully this is not foreshadowing for the monkeys if they ever actually do develop the ability to speak.
Twitter this