Posted by
Editor
on May 25th, 2011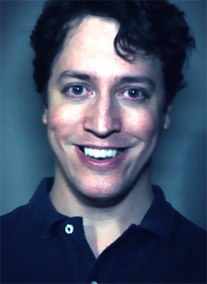 Andrew Mayne is one year older today, officially.
Anyone who has spent a significant amount of time with Mayne knows two emotions: an amazement that one man can be so multi-talented and a staggering frustration that one man can be so multi-talented. This year, he decided he wanted to be an author, more specifically a fiction author since he already has a robust library of non-fiction and instructional magic books.
So he sat down on a flight from Houston to Fort Lauderdale and on his iPad wrote out the beginnings of a story.
That story is the first chapter in his first fiction novella, The Grendel's Shadow. It has been a fixture on the Amazon.com Science Fiction Adventure Top 100 since it's release. The only reviews for it that aren't five stars are four stars. Which is pretty cool.
Until you find out that he's written four more books. Since the release of Grendel. On March 28th. Four of them. In less than two months. The two of them that I've read are very good.
Also, in his spacious downtime from that he put in the research and development to create and release a brilliant new utility Photosynthesis. For which there are only eight left to pre-order.
It's not human.
Yes, Andrew is a year older. But does it really matter? He's just going to conquer death anyway then write 60,000 words about it in 48 hours.
In all seriousness, this site doesn't exist without him. In this context as a writer, I do not either.
Happy birthday, old friend.
Twitter this