Posted by
Ryan
on March 22nd, 2011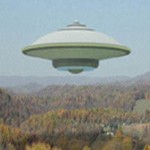 Iran decided that they needed a spy drone that looks like something from a bad 1950s movie. Released at an exhibition, the machine is named "Zohal" and at least it has some modern characteristics.
The flying machine is equipped with an auto-pilot system, GPS (Global Positioning System) and two separate imaging systems with full HD 10 mega-pixel picture quality and is able to take and send images simultaneously.

Zohal uses a small, portable navigation and monitoring center for transmission of data and images and can fly in both outdoor and indoor spaces.
Twitter this