Posted by
Ryan
on January 16th, 2011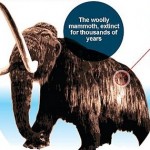 One man is on a mission to bring woolly mammoths back from the dead. A technique for successfully recovering frozen cells to use in creating clones was pioneered in 2008 by Dr. Teruhiko Wakayama, of the Riken Centre for Developmental Biology.  Now Akira Iritani, a professor at Kyoto University, plans to use the results in a quest to bring the woolly mammoth back to life.
"Now the technical problems have been overcome, all we need is a good sample of soft tissue from a frozen mammoth," he told The Daily Telegraph.
Professor Iritani estimates about 2 years to successfully implant an embryo into an elephant, followed by a 600-day gestation period.  He will be travelling to Siberia this summer in search of specimens.
Twitter this