Posted by
Ryan
on January 20th, 2011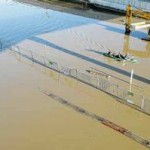 The recent floods in Australia have provided new hunting ground for bull sharks. Recently, two bull sharks have been spotted swimming past the McDonald's restaurant in Goodna.
"It's definitely a first for Goodna, to have a shark in the main street."

"It would have swam several kilometres in from the river, across Evan Marginson Park and the motorway," Cr Tully said.
Twitter this