Posted by
Ryan
on November 21st, 2010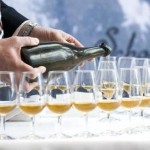 A group of Finnish divers recently discovered a shipwreck near the Aland Islands and salvaged 200-year-old crates of champagne and beer from the sea floor. At this point the only conceivable option was to identify, research, analyze, and then drink it up.  Indeed, the first of the champagne was tasted by the divers before they even got back to the mainland:
"The divers first discovered the champagne was drinkable when changing pressures caused the cork to pop off one of the bottles, and a diver decided to take a swig."
Science!
A tasting was held recently for a select few and here is how one of the participants described his glass:
"Here's what it tasted like to me: yeast, honey and — dare I say it? — a hint of manure."
Yum. The bottles are expected to fetch up to $70,000 at auction.
Twitter this