Posted by
Sean
on May 13th, 2009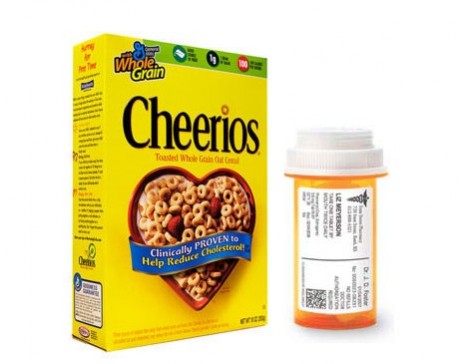 Alison Smith Reports:
The United States Food and Drug Administration, apparently bored to tears by microbial face paint contamination, took a stand against General Mills in a warning issued on 5 May 2009 for claims made by the #1 toddler finger food – Cheerios.
The FDA's warning stated that the claims made by General Mills regarding the health benefits of eating Cheerios (specifically, that doing so lowers cholesterol and prevents heart disease) would qualify Cheerios as a drug. Ignoring all the fun drug slang phrases I can come up with for this ("Dude, I'm so Cheerioed"), let's get to the heart of the issue here.
First of all, a note to crappy researchers like David Theroux of The Independent Institute and Behind Blue Lines – oh my God, please Google before posting.
Theroux stated in his post:
According to CBS News, now the FDA has sent a letter to General Mills, the makers of Cheerios, warning them to stop including health claims in their advertising not because they are false, but because such claims make Cheerios a "drug" which "may not be legally marketed with the above claims in the United States without an approved new drug application."
Mr. Theroux… let's talk about regulatory institutions in the United States. The Food and Drug Administration of the United States regulates things like food, cosmetics, medical devices, veterinary medicine, etc, etc. They do not give a damn about advertising – false or otherwise. That falls under the purview of the Federal Trade Commission. The FDA is not concerned with how Cheerios is advertised, but how it is branded – and only researches advertising for a product if they are deciding whether to treat a product as a food or a drug… which, you may have noticed, is precisely what happened here. Additionally, the FDA didn't even really need to look at Cheerios advertising. The claim is, after all, handily printed directly on the Cheerios box. That's not advertising. That's labeling.
And no one ever said the claims Cheerios makes are false. In fact, General Mills claims to have conducted a double-blind study of 135 individuals on Cheerios' ability to lower cholesterol (though they have not offered the publication that contained the study).
As for the folks at Behind Blue Lines – well, they said the following:
At the rate we're going, apples will be deemed an unapproved drug because of the old saying 'an apple a day keeps the doctor away'.
No, Behind Blue Lines, that's not the case at all. The FDA would, however, go after Dole if they put on their apple bags, "Also cures leukemia!"
The FDA's definition for what constitutes a drug is as follows:
The FD&C Act defines drugs, in part, by their intended use, as "articles intended for use in the diagnosis, cure, mitigation, treatment, or prevention of disease" and "articles (other than food) intended to affect the structure or any function of the body of man or other animals."
If General Mills says "Hey, our cereal prevents heart disease!" then they'd better damn well publish their clinical study and fill out that drug application unless you want there to be a bunch of dead people who say with their last dying breath "Screw you, Cheerios."
Yeah, it's totally weird that the FDA is this concerned with cereal, but that's why they exist. I cannot fathom of a person who would eat Cheerios in lieu of taking medication, but then again, I know people go for chiropractic, and we all know that's bull hockey.
Twitter this