Sunday, March 6th, 2011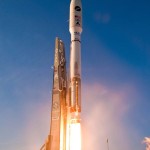 The Air Force has launched its second X-37B space plane (X-37B Orbital Test Vehicle-2 to you) into orbit for a 270 day mission. The original mission lasted for 224 days before OTV-1 landed at Vandenberg Air Force Base in December and managed to shake observers by changing orbit more than a few times.  The Air Force won't say what they are up to, but the Chinese and Russians are skeptical.
While the Air Force has said the space plane is designed to stay in orbit for 270 days, it hasn't said much about the overall mission. It has said only that the vehicle provides a way to test new technologies in outer space, such as satellite sensors and other components.
[LA Times]