Posted by
Tony
on July 18th, 2015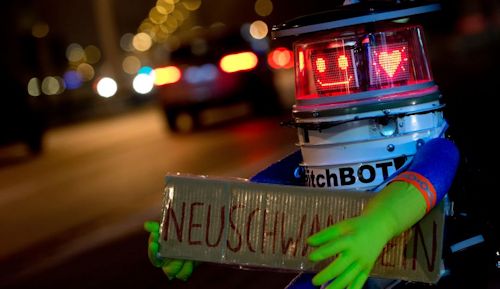 It's traveled from one side of Canada to the other. It's also traveled extensively all over Europe.
Now it's about to travel from Salem, Massachusetts to San Fransisco, California…
Depending completely on the the kindness of strangers because it can't move without them…
Because it's an extremely low-tech, immobile, hitchhiking robot called HitchBot.
As the creators of this adorable little "robot" put it:
"We want to see what people do with this kind of technology when we leave it up to them. It's an art project in the wild — it invites people to participate. It has a really low-tech look to it, something we dubbed the 'yard-sale aesthetic". The head is actually an acrylic cake-saver. We want to create something that has a bit of narrative to it, a sense of adventure. We don't really know what's going to happen."
Hitch started its journey across the US on July 17th. Equipped with a disarmingly charming LED smiley face, a GPS and a camera that posts photos every 20 minutes to its Twitter account, Hitch is embarking on a completely unpredictable journey that many of us only dream of or think about doing "one day"…
And its just a little yard-sale-built robot reaching out to the world and hoping it'll reach back.
Maybe "robots" have something to teach us after all.
Shoot us a photo and your story if you decide to help HitchBot get across the US at any point!
[Fortune]
Twitter this