Posted by
Tony
on August 16th, 2013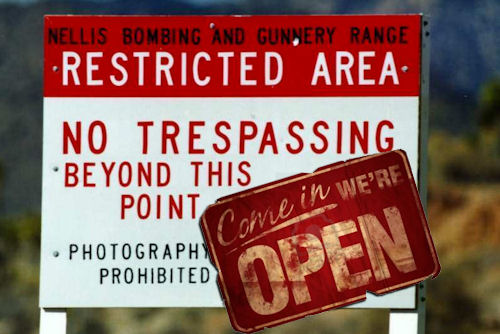 Everyone! Stop EVERYTHING! Right NOW!
Our government, who is always up front on just about every issue you can think of, has just pulled the tablecloth from under our dinners by announcing that some place called Area 51 exists in the Nevada desert!
Beside the eardrum-bursting sound of millions of people facepalming all at once there's nothing but the sound of crickets and a whole lot of blank stares followed by just as many shrugs as everyone returns to doing whatever the hell they were doing before this announcement hit the wire.
Sure it's a ridiculous admittance of a place that most people who enjoy weird things hold near and dear to their little, strange hearts. No one's really sure why it's happening at this moment. Many of the UFO conspiracy theorists are already beating their chests that they moved the government to take this step because of the big UFO forum that took place in Washington, DC in early spring of this year.
Others are already speculating that the government is prepping us for some kind of announcement that the alleged extraterrestrials often associated with Area 51 are already living among us.
Right now everyone worth their salt in the conspiracy theory and UFO communities are poring over every word in the 407 page document (you can find the links right here) that's been released and is basically the origin story of the infamously mysterious test site.
Today's a great day in government transparency!
Who knew there was even a place mysteriously called Area 51?
Oh..wait…
[The Atlantic Wire]
Twitter this