Posted by
Tony
on February 11th, 2013
King Richard III's body has been missing for several centuries now. Most historians figured the guy was buried near Leicester, England…somewhere. Nobody could figure out where the hell the body ended up after Henry VIII's people lost the records showing the location of the remains.
Using other records of the day, archaeologists determined that the King's remains were buried somewhere near the altar of the Grey Friars Church…
The very same Grey Friars Church that was about to become a parking lot.
After construction began and trenches were being dug for the new parking lot, things came to a screeching halt as workers found they'd unearthed a skeleton…a skeleton that had been there for a very long time.
Scientists and archaeologists descended on the future home of another forgettable strip mall to see if they could learn more about the skeleton who'd been chilling just a few feet below the surface of the area for what appeared to be several centuries.
After a lot of testing, retesting and verified tests….there was no doubt as to whose body this was.
Discovered last summer, this story has resurfaced (totally intentional pun) as the lab-coats have determined that this, in fact and without a doubt, King Richard III's remains.
Makes you wonder what the hell's under the nearest WalMart.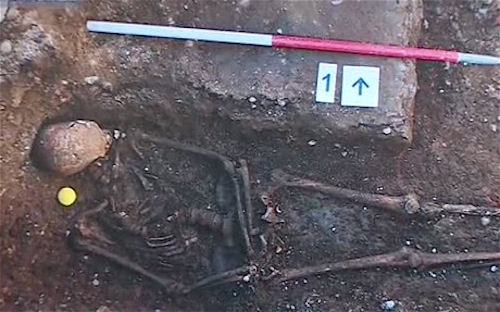 Twitter this