Posted by
Tony
on January 9th, 2013
Across the globe from the uncanny valley that is Diego-san's facial expressions, the University of Zurich's Artificial Intelligence Laboratory making another weird foray into the creation of a robot toddler.
Roboy is being developing with the help of crowd-funding,, sponsorships and almost 40 engineers and scientists.
Just like its weaker, fleshy, real-life inspiration, Roboy's design gestation is going to take about 9 months to full completion.
Roboy is being developed to ease people into actually living with robots and not being creeped out by them. Roboy's face was chosen during a Facebook contest. Its body is made entirely of plastic and will be covered with a fleshy, rubber-like material to simulate skin. Unlike typical robot movement mechanisms, Roboy will feature elastic cables pulled by motors in order to provide movement more human-like and less bad robot-dance-like.
Part of Roboy's mission is to help build a bridge across the uncanny valley and get people more comfortable with having robots around and being a part of their lives.
Service robots are going to be a part of our lives in the very near future. As the population ages, new generations will already be more comfortable with having robots around and using them to do menial tasks for us.
Roboy will heading out into the world as part of the 'Robots on Tour' event that begins March and will exhibit all sorts of our future replacements.
Then there's that incessant and nagging subconscious feeling that we might piss them off and see an army more terrifying than anything Hollywood could put in front of our peepers….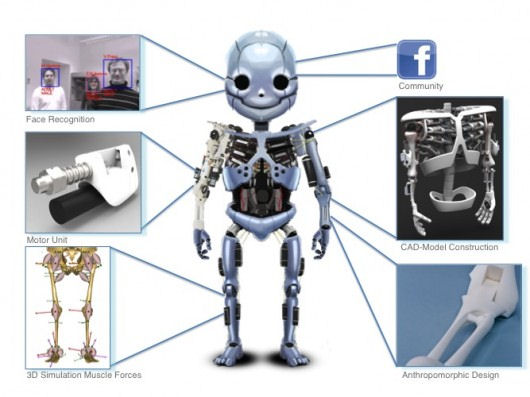 [Roboy]
Twitter this