Posted by
Tony
on October 12th, 2012
[ UPDATE: Giant Eye Mystery Solved! ]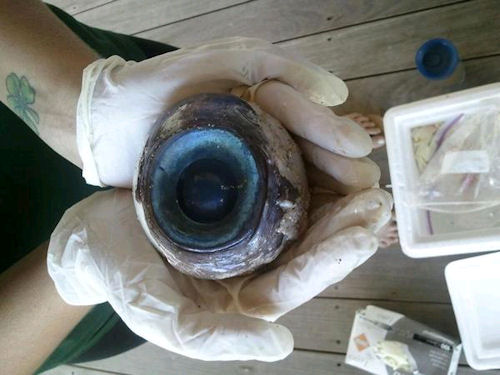 Florida always seems like it's sitting on some kind of undiscovered Hell-Mouth.
Between Bath-Salt Zombies, giant snakes slithering through your lawn, Night Creepers and lizards eating humans there's just something…not…quite..right.
Which brings us to Pompano Beach..in Florida.
Some guy's going for his morning stroll and spots something odd drifting around in the surf. Just like in any other horror film, the dude goes to investigate…and kicks it over…revealing at a huge eyeball staring right back at him.
"It was very fresh," he said Thursday. "It was still bleeding when I put it in the plastic bag."
Police referred him to the Florida Fish and Wildlife Conservation Commission who, frighteningly couldn't identify what species the eye came from.
The Fish and Wildlife officers place the eyeball on ice and sent it to the Fish and Wildlife Research Institute for analysis.
In the end who really cares about where the eyeball came from…the Fish and Game Commission people should be looking for the thing that ripped apart the thing with the giant eyeball.
Twitter this