Posted by
Tony
on July 18th, 2012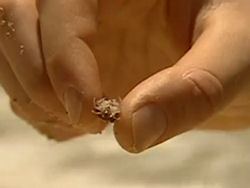 Could this be an alien invasion in the beginning stages?
Millions of little, purple, crab-like creatures have washed up on the coast of O'ahu in Hawaii! The animals are about the size of a large pea and seem to be some kind of crab in its larval state. The problem is that even local biologists have never seen these things before and there are literally millions of them all over the beaches. Most them are either dead or dying but biologists have captured many that seem to be healthy. Those same biologists that will probably be responsible for nurturing the first wave of an alien strike force, are hoping to see what the larva will grow into.
While we all wait for a definitive answer from the scientists and biologists now showing We've all seen enough science fiction/monster movies to know EXACTLY what these will turn into…
Crab-like harvestors of mankind.
Twitter this